PayPal Poker
Chances are, you're here because you want to know more about playing poker online; preferably using your PayPal account. You want to know the best sites to sign up to, how to make your deposit, and why the heck Americans and Canadians cannot use PayPal to fund their sites.
I have good news; you're in the right place. We have lots of information about PayPal poker sites, casinos and sportsbooks here.
But where should you start? That's a fair question.
This is what I would recommend:
Need to find a poker site or casino? Visit our review section.
Want to improve your poker skills? Visit our strategy hub.
Want to play poker on your phone or tablet? Visit our mobile page.
Want to play casino games? Visit our casino section.
That will keep you busy for awhile. You can also read the rest of this page to learn more about us, and what you can expect to learn from our website.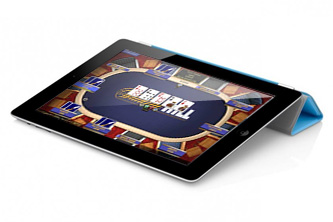 Want to Play Poker From Your Mobile Device?
An exciting trend in the poker industry right now is mobile apps and games. Mobile has been growing in leaps and bounds over the last couple of years, and has become the platform of choice for how most of us choose to communicate, learn and entertain ourselves. In fact, statistics show that mobile usage will outperform desktop usage in 2014, if it's not already.
Gambling operators have taken notice, and have started to create apps of their most popular casino, sportsbetting and poker games.
Unfortunately, mobile poker won't be an option for many players. Since Android and Apple dominate the mobile poker, that's all gambling operators develop (native) apps for. So Blackberry and Windows users won't find too many options.
But iOS and Android users will have plenty of choices. The following pages will tell you everything you need to know about mobile poker and casino gaming.
Just click on the links to learn more.
Android Poker – Read our Android page to learn more about native poker apps. We also explain what options you have if the poker site of your choice does not have a native app. Then we show you some poker themed apps, such as odds calculators, poker timers and more.
iPad / iPhone Poker – Our iOS page is similar to the Android page. We'll show you which mobile poker sites are the best to join, what games you can play and how to get started. We also answer the most common questions about playing poker from your phone or tablet.
As more Blackberry and Windows apps become available, we'll created pages for each and link them from here. So you'll want to bookmark this page and check back frequently.
Score! There Are PayPal Casinos Too
One of our favorite things about PayPal poker sites is that most of them are connected to casinos and sportsbooks, too. That means that you can use PayPal to play games like blackjack, or bet on sports like football, basketball or cricket. And you only need one account.
Since the casino games are so popular, we decided to dedicate an entire section of our website to them. Below are the games that we've covered so far, with a summary of what you'll learn from each page.
Blackjack – The best part about playing blackjack online are all the options you have. Most casinos will have a minimum of 3-5 blackjack variations, and some will have more than 10. Blackjack is also a popular mobile game. We'll show you where to get your app.
Slots – Slots players will have options, too. Online you can play variations like video slots, 5-reel slots, movie themed slots and progressive jackpot slots. Many of these are available on phone and tablets, too. Read this page to find out where the hottest machines online are.
Roulette – Our roulette page covers the different variations offered online. We also explain how roulette promotions work, the best casinos to join and where to get native roulette apps for your iOS or Android mobile device.
Video Poker – Read this page to learn what video poker variations you can play online. We also cover where to play, what casinos have native video poker apps, and how deposit bonuses and other promotions will affect video poker players.
There are many other casino games online. This includes lottery and scratch card games, craps, sic bo, Caribbean stud and more. All of these games will be available to you, from one account, when you sign up through our site.
The best part about these multi-product casinos and sportsbooks is the convenience. You don't have to have 4 or 5 accounts online to play your favorite games. With one account and bank balance, you can play any game you want, when you want. This will come in handy if you ever sit down to play poker and the games are slow. Go play a few hands of blackjack instead, and check back for action later.
Why PayPal?
PayPal is obviously a convenient banking method. Not only can you use them to fund your poker account, but you can also send money to friends, shop/sell online, pay your bills and so on.
But there are a couple more reasons that people overlook.
PayPal is selective in who they work with. Every international site could technically accept them. But they're not allowed to. What this translates to for us is that the sites that do accept PayPal are essentially endorsed by them (as safe poker sites).
PayPal leaves no money trail. Unless someone has access to your account, no one will know where your money is going.
There are downsides to PayPal, too. For example, they do charge fees. They are slow when transferring money to your bank account. But we feel these are minor setbacks when you consider all the upsides.
How We Rate PayPal Poker Sites
PayPal is only one factor we look at when reviewing and rating online poker sites.
There are other important things to consider. For example:
Is the site licensed and regulated? A site without a license is not safe to play at. Most jurisdictions require them. So if a site doesn't have one, you have to ask yourself, why not? What do they have to hide?
Do they receive enough traffic? You need players for games to run. It's important to check that the site hosts enough players overall, and for the games you prefer to play.
What games do they have? Do you see the games, formats and variations you want? Not every site is capable of offering everything under one roof like PokerStars can, nor should they be. Some sites offer games like mixed or draw poker, while others focus entirely on holdem.
Are they compatible with… ? How do you want to play online poker? Nowadays you can play from your phone, tablet, laptop and desktop computer. You want to make sure that the site offers a native download for your specific device and operating system. That includes downloads for Mac, Apple (iOS), Android and even lesser popular options such as Blackberry and Windows (mobile).
What banking options do they accept? You want to look for deposit and withdrawal options that you can use, whether or not their limits meet your budget, and if their processing time frames are reasonable.
These are the factors most important to us. If the site meets our standards then we'll also look at additional factors including bonuses, promotions and software features.